Why Lapis Han?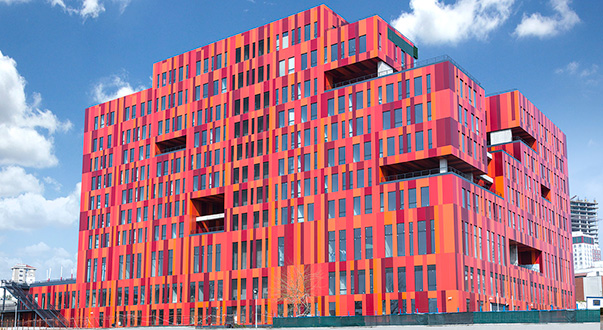 Architectural Features
It stands out as a colossal architectural mass and therefore it is a point of reference.
Mimari tasarımı ile ferah ve fonksiyonel ofis ünitelerine sahiptir.
Offices gather around the courtyard to command both faces and have a view.
There are multipurpose terraces and floor gardens on every floor.
It creates functional and enjoyable working environments with its project design which was shaped according to "Lego structure" and "old office block" forms.
It provides the possibility to carry out the social activities alongside the business life's needs and possibilities in single environment.
It provides a healthy and enjoyable working environment with bright living spaces.
Through floor gardens, it provides both a space of relaxation and an opportunity of rest.
It is possible to hold well-attended work business meetings in its meeting rooms.
It helps you to avoid the stress of business life at its green and wide courtyard.
It provides relaxation, recreation and enjoying the comfortable feeling of green at its courtyard.
Accessibility Features
Overlooking E-5 Highway, LAPİS HAN can be reached easily by private vehicle or public transportation: It is possible to arrive from E-5 Highway, TEM Motorway, minibus road or Kadıköy-Tuzla coastal drive.
Kadıköy-Tuzla coastal drive.
The only international airport of Istanbul's Asian side Sabiha Gokcen Airport is only 15 minutes away from LAPİS HAN.
The foremost advantage of LAPİS HAN is to stand at the Soğanlık exit of Kadıköy-Kartal subway.
It is possible to reach railway from LAPİS HAN in a short time.
Local and inter-city transportation is possible by railway.
It takes a short time to reach European side by Marmaray.
It is possible to arrive LAPİS HAN by seaway using the local and inter-city lines.
Technical Features
Gross 340 cm, net 310 cm. olarak belirlenen kat yükseklikleri bina içinde ferahlatıcı bir atmosfer oluşmasını sağlar.
6 elevators provide a fluent access between the floors.
Office units and wet spaces are delivered fully completed.
Offices that are separated by columns add plus value to both aesthetics and comfort of the building and also efficient use of space.
Powerful generator system avoids the negative effects of power cuts on your business.
Central satellite system connects you to Turkey and the whole world.
Contrary to vertically rising business centers, LAPİS HAN is suitable to natural ventilation with its convenient windows which can be opened.
Central heating system and VRV infrastructure are ready.
It saves energy by means of its technical infrastructure.
Technical infrastructure allows "pay what you use".
Fire safety is at the top..
Building structure has been realized according to wind and geographical impacts.
Necessary technical precautions were taken for earthquake safety.
There is smart building automation system.

Ekstras
In the context of LAPİS HAN project, there are meeting rooms to be used by unit owners. Clients can fulfill their meeting necessities in the plaza building without reserving a meeting space in their offices or leaving the building.
There are parking spaces and toilets for the disabled.
An indoor parking space is allocated for each unit.
There are two different entrances and lobbies including the reception services.
There is 7/24 security service.
Building management is operated by a professional team.
Private consulting services are provided professionally.
Due to being a commercial facility, signboards can be put in specified places.